Happy Sunday!
💥 We hit a BIG milestone! As of this month, Bullpen freelancers are earning a combined more than $1 million per year through our network. 🚀 Huge shout out to these talented folks.
I'm in San Diego with my in-laws this weekend, so my team member Max is back behind the keyboard for most of today's newsletter. Thanks, Max!
Q2 Market Sentiment Survey
I announced a Q2 CRE Market Sentiment Survey in last week's email. The results have so far been very interesting, especially pertaining to people's outlook for the remainder of this year. I'm going to leave the survey open for another week or so before I compile the results.  
If you haven't already, take 2 minutes to share your opinions on the market here. The survey is anonymous, but if you leave your email at the end, I'll send you the raw results. 
Case Study: Increased Borrowing Costs Impact to Yield
Part of our Market Sentiment Survey is a question regarding the Fed's expected interest rate hikes on commercial real estate prices. Spoiler alert – the majority of you believe that rising interest rates are going to have a negative impact on real estate prices. 
It's not rocket science to assume that all else equal, rising borrowing costs will decrease yield. But, what is the magnitude?  
Four years ago, a few buddies and I began analyzing small multifamily acquisitions across a few west coast markets (Phoenix in particular) for dilapidated / Class B/C buildings using a quick "back of the envelope" analysis. We mostly solved for levered yield and targeted 8%-10% (slightly higher than average inflation now, ha!). 
At the time, we were looking at an all-in 4.00% interest rate at 75% LTC for typical acquisition bank financing. Given the Fed's latest remarks yesterday on raising interest rates (general consensus is for a 50 bps rate hike in May) to battle inflation, I was curious to look back and see how the return profile of our projects would look in a higher rate environment. See below for an example of a dilapidated 5-unit property we once looked at in Phoenix: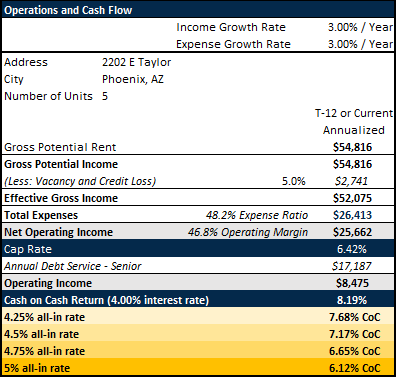 As you can see, a rate increase of merely 100 basis points has a greater than 200 basis point negative effect on yield in this model. 
This begs the question … are investors going to start demanding higher cap rates on purchases, or will they drop their return requirements? 
That's all for this week! If you've made it this far and haven't completed our market survey yet, please do! I've re-linked it here. 
Last thing … if someone forwarded this to you and you liked it, subscribe here.