Happy Sunday!
It's been a wild week! For all of you crypto junkies out there – congratulations on a new all-time high for both Bitcoin and Etherium.
A little housekeeping before we get to the main show …
1) I'm slow at loading these letters to our site. If someone forwarded this to you (or you're reading this on Bullpen), be sure to subscribe to get the next letter in your inbox on Sunday afternoon.
2) I'm writing about publicly traded securities today. None of this letter is intended to be investment advice, and given my track record picking stocks, you definitely shouldn't use this information to make trades. 📉
Grab a drink, put your feet up, and let's get to it before the next episode of Succession drops.
Is there an arbitrage opportunity between public REITs and private real estate?
I stumbled upon a tweet by Manoj Vasudevan about the arbitrage opportunity between private real estate investing and public REITs. Manoj is a Director at KAUST Investment Management Company, a Saudi Arabian endowment.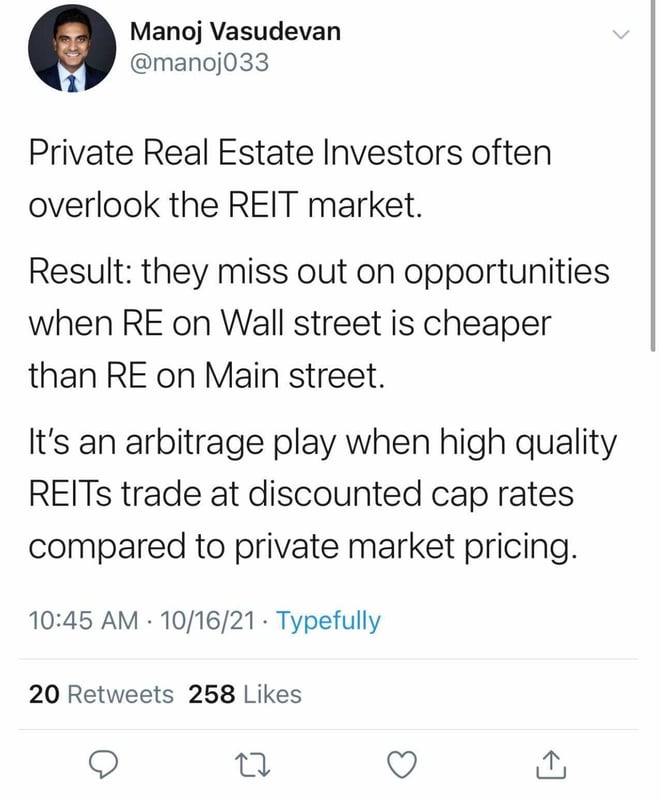 The concept fascinates me. Public markets are supposed to be more efficient than private. However, in times of fear and uncertainty, public REITs can trade below, and sometimes far below, the private-market value of their assets.
For example … a class A, 250-unit multifamily property in tier 2 city may trade at a 4% cap rate (or less) on the private market. However, in the height of pandemic uncertainty, the stock of a public REIT that owns a basket of class-A multifamily properties in tier 2 cities may trade as if its properties were valued at a 5%+ cap rate.
I confirmed this phenomenon with Murat Sensoy, a Bullpen freelancer and REIT research professional with more than 15 years of experience in the space.
Murat shared that public REITs typically trade at a 10-15% premium to their Net Asset Value (NAV) … translated: comparable private market value minus debt. The premium typically depends on the market's perception of their management team.
Furthermore, Murat confirmed that many public REITs traded at a discount to NAV in 2020.
How do Wall Street analysts calculate a REIT's NAV? 
Murat explained (with caveats) that the most common way to calculate a REIT's NAV is to annualize the Net Operating Income (NOI) provided on the most recent 10-Q or 10-K, divide it by the market cap rate for the assets, and subtract debt.
Warning: The hard part is nailing down the market cap rate that you should use for the analysis. It has a massive impact on the calculation.
Are REITs currently trading at a discount to NAV?
I analyzed the most recent 10-Qs for Avalon Bay (multifamily), Boston Properties (office), and Simon Property Group (retail). Here are my findings …
– Avalon Bay is trading at a ~30% premium to my calculated Net Asset Value (consistent with the boom in multifamily).
– Boston Properties is trading at a ~10% premium to my calculated Net Asset Value (consistent with Murat's "10-15% premium to NAV" heuristic).
– Simon Property Group is trading at a ~25% discount to my calculated Net Asset Value.
I'm curious … Would you ever opt to invest in a public REIT instead of private real estate? Reply with your opinion.
Have a great week!